PURSUING ABSOLUTE TOUGHNESS
SHOCK RESISTANCE
True to Kikuo Ibe's vision, G-SHOCK has been the epitome of robustness, innovation & multifunctionality with core technical features that support the pursuit of absolute toughness.
Hollow case structure
The proprietary case structure that led to the birth of the first G-SHOCK
The revolutionary tough structure that gave G-SHOCK its reputation, was based on a realization that the internal workings of a bouncing rubber ball remain completely unaffected by impact. This led to the development of a watch with a hollow design in which the interior module of the watch is stored in a manner akin to floating, relieving shocks transmitted from outside.

Today, this shock resistance continues to develop through technical innovations that prioritise user comfort and aesthetics.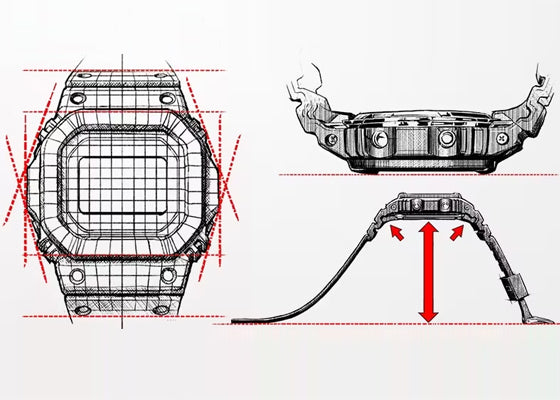 All-directional covering
+ protective cushioning of key parts

When a G-Shock is dropped, it's protruding bezels fully absorb and alleviate shocks from all directions, while protecting the buttons directly connected to the module.
All critical components inside the module are guarded individually by cushioning material so that any strong impact to the watch is absorbed, preventing potential failure and malfunction.
Design
Original square design (5000/5600 series)
For over 40 years, G-Shock has retained its original square design whilst pursuing greater toughness in every respect, from structure and internal design to materials and functions.
The proud original shape has been passed down without change in homage to Kikuo Ibe's ability to push the limits.