A Perfect Combination of Tradition and Technology
Casiotone
CT-S1 / CT-S400 / LK-S450 / CT-S500 / CT-S1000V
Casio Music Technology
Feel at One with the Music
Casiotone Today – A Perfect Combination of Tradition and Technology
The next generation of Casiotone is the product of 40+ years of experience and technological development since we created our first electronic musical instrument. They've been given a modern overhaul while staying true to our philosophy of creating musical instruments accessible to anyone.
Express Yourself Like Never Before with Aix Sound Source
AiX Sound Source: Maximum range of musical expression true to each instrument's characteristics
Casio's state-of-the-art AiX Sound Source technology delivers stunning depth and realism through the complementary design of circuits, mechanical build, software, LSI processors and other components, providing extraordinary sound from a remarkably compact keyboard. Based on in-depth analyses of the audio characteristics of different instruments, AiX Sound Source can accurately reproduce acoustic instruments such as pianos and strings, electric instruments such as electric guitars and organs, and the electronic sounds of synthesizers. Tap into the unique expressiveness of each instrument and let your imagination inspire your performance.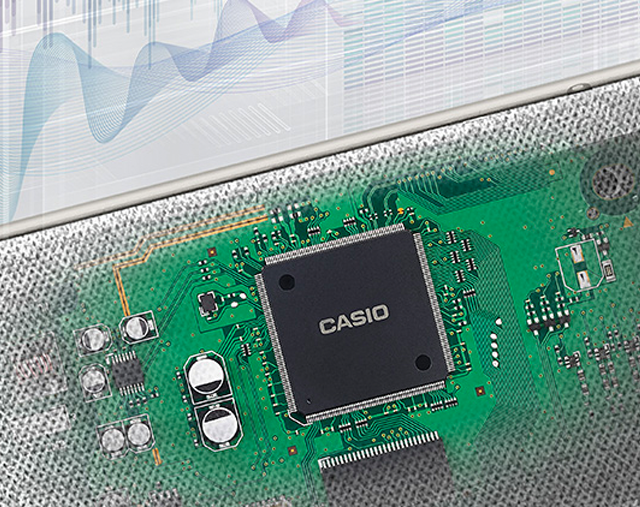 Custom LSI That Reflects the Subtlest Nuances of Your Playing
At the heart of the latest Casiotone models are our own specially developed custom LSI processors. These high-performance chips are designed to make the processing required for sound generation as efficient as possible and power our proprietary waveform compression technology that allows for exceptionally detailed and richly expressive sounds. For example, not only are instruments themselves captured in detail at a range of different intensities for every note, but the amplifier sections of vintage instruments are also modeled, requiring high-speed computation on large amounts of data to deliver stunningly realistic and responsive sounds. The Casiotone CT-S500 and CT-S1000V also take advantage of the processing power available to provide class-leading effects.
Distinctive Tones Expand the Possibilities of Expression
ADVANCED TONES: Unique Sounds with Huge Expressive Possibilities
ADVANCED TONES are sonic gems cut using Casio's advanced technology. A range of acoustic and vintage instruments that feature on countless classic recordings have been modeled to create tones that showcase the power of Casio's AiX Sound Source. In addition to classic instruments, the Advanced Tones collection includes original sounds that change in a variety of ways depending on how you play, giving you new expressive possibilities.

* Available in models CT-S1 / CT-S500 / CT-S1000V
PIANO PAD
Piano sound with layered strings when three or more notes are played at the same time.
PHASER E.PIANO
Using newly measured IR (Impulse Response) data from the original instrument to recreate amp characteristics.
AMP 60's E.PIANO
Expressing Wurlitzer Electric Piano tone with the original preamp modelling and slight tremolo.
CASIO CLASSIC TONES:
The Classic Casio Sounds from Musical History
AiX Sound Source brings back the beloved sounds of Casio's classic electronic instruments with CASIO CLASSIC TONES, an exclusive selection of 12 tones for keyboardists. Featured instruments include the flagship 1980 Casiotone 201 (CT-201), the legendary Casio ultracompact VL-1, as well as the pro musicians' synthesizers of choice, the CZ-101 and VZ-1. Recreate the tonal atmosphere of a past era with these classic sounds.

* Available in models CT-S1 / CT-S500 / CT-S1000V
VL-TONE
Violin tone from the VL-1. Rhythm loop sequences are assigned to the lower keys
CT E.PIANO
CT-201 01.E.PIANO: The Original and classic Casio sound, now expressed in new models
CT HARP
CT-201 08.HARP2: Pluck sound synthesized with the unique "Vowel-Consonant System"
Intuitive Real-Time Control of High-Quality Effects
Use the processing power of custom LSI chips to provide powerful effects.
The CT-S500 and CT-S1000V in particular feature class-leading DSP effects—a chain of up to four effects from a total of 100 effect types available can be applied to the selected tone. In addition, three system-wide effects are available (reverb, chorus and delay) together with a master EQ. Chain modulation and LFO-based effects for dynamic movement, or try combining spatial effects such as delays and reverbs to add depth and complexity. Or explore the precision amp simulations based on Impulse Responses (IR) from original instruments and amp circuits—there are countless ways to expand the already broad array of built-in tones.
Powerful Acoustics from a Compact, Refined Structure
Horizontal Bass-Reflex System:
Innovative Bass-Reflex System Packs a Punch in a Compact Space.
The Horizontal Bass-Reflex System is a space-saving technology designed to produce powerful bass, even from slim-bodied instruments. Rather than being directly mounted to the upper housing, the speaker is mounted on a component attached to the lower housing, forming a dedicated enclosure (speaker box). Its solid structure enables the Bass-Reflex System to produce compelling bass while controlling distortion and sympathetic vibrations, while enclosure parts and screws that could obstruct air flow or result in sympathetic vibration were also carefully eliminated.
Smooth sound design
The ducts are rounded, meaning that sounds generate less noise as they travel through them, and the bottom surface of the case is slightly raised to prevent bass tones from being trapped. The elliptical design of the speakers achieves a slimmer body with a larger surface area, while the two-stage magnet generates a stronger magnetic force. Also, the edges of the cones (diaphragms) are made from fabric for a crisp, clean sound.
Volume-Sync EQ: Intelligent Sound Adjustment Ensures Big Sound, Even at Low Volumes
Volume-Sync EQ automatically corrects the balance between higher frequency sounds and the low register, which is subjectively quieter at low volumes. Optimizing the sound based on the characteristics of human hearing, the result is a pleasing tonal balance at any volume. Simply turn the volume knob and enjoy the same full-bodied sound.
A Slimline Case Packed with Compact Innovations
Slim, Lightweight Body for Making Music Anytime, Anywhere.
The Casiotone speaker units and structural design are adventurous and creative, achieving a slim and portable lightweight body. Designed to fit into the tightest spots, the keyboards are easy to carry, making transportation a breeze.
Retaining the simple beauty of classic musical instruments, Casio designs user interfaces that are simple and intuitive. A minimum of buttons and knobs lend the front panel a clean, uncluttered aesthetic that brings all controls within easy reach. For example, the CT-S1 panel focuses on the simple selection of tones with a single button, while the CT-S400 and LK-S450 with its wide range of functions and tones uses an LCD screen and dial to make adjusting settings and selecting tones a breeze. The CT-S500 and CT-S1000V follow this tradition, so while boasting class-leading effects and other advanced functionality, the user interface is straightforward and simple. Frequently used tones and settings can be freely assigned to buttons whose function is displayed on the LCD screen.
Expand Your Horizons
Bluetooth® MIDI / Audio: Wireless Capability Expands Casiotone's Potential.
The WU-BT10 wireless MIDI & AUDIO adaptor*1 supports both audio and MIDI without an external power source – simply plug it into your Casiotone to take advantage of new possibilities. Audio and MIDI data are transmitted together via USB using a proprietary protocol. The adaptor is the world's first*2 to support both audio and MIDI data simultaneously, enabling users to play back their favorite tunes from smart devices through the Casiotone speakers, and transmit MIDI data between their Casiotone and smart devices or other electronic equipment. Although latency and signal dropout can be a problem when using Bluetooth, our system has been carefully optimized for low latency and high stability. Enjoy stress-free music playback or play your Casiotone through our app.
Broaden Your Performance and Music Production Possibilities with MIDI Controller Functionality
The CT-S500 and CT-S1000V can be used as dedicated MIDI controllers, transmitting MIDI data not output in regular use. Advanced features such as key velocity sensitivity adjustment, output of arpeggiator note data, and output of linear control change messages from the front-panel knobs make these keyboards perfect for controlling other MIDI devices in real time or as control surfaces in the studio.