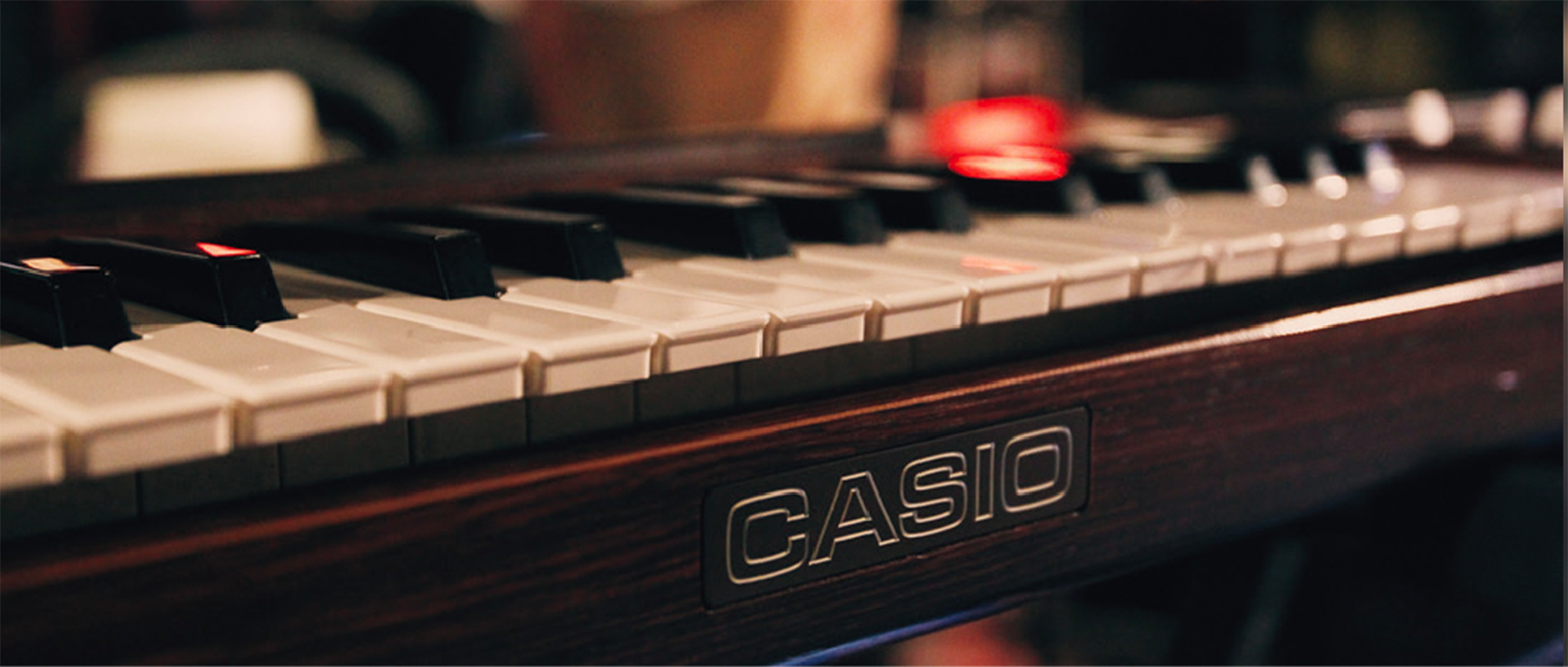 CASIO MUSICAL INSTRUMENTS
History
"Sharing the joy of making music with everyone"
Casio's philosophy realized through innovation
Casiotone 201(CT-201)
1980
The first CASIO electronic musical instrument, born of a wish to bring the joy of playing music to everyone.
Learning to play more than one musical instrument was costly and time-consuming, and the electronic instruments of the time did not offer ease of operation either. In a bid to break through these barriers, CASIO developed the compact, lightweight Casiotone 201 electronic keyboard with a built-in speaker to offer the enjoyment of playing a variety of different musical instruments with simplicity. This innovative instrument enabled the user to play the sounds of 29 different instruments on the keyboard. Hailed at the time as a "third type of instrument"—neither an electric organ nor a synthesizer—the model proved a good fit with society's predilection for richness of spirit and spread around the world in a flash, giving rise to a whole new way of enjoying music.
CASIOTONE 201(CT-201)
1981
The electronic keyboard famous for the "Sleng Teng" rhythm pattern that revolutionised the reggae world.
CASIOTONE 701 (CT-701)
1981
The world's first electronic keyboard to include Melody Guide function.
VL-1
1981
Electronic keyboard with calculator and music sequencer
PT-50
1983
ROM Pack cartridge contains digital sheet music for easy, convenient practice any time
Symphonytron 8000
1983
The component-type electronic musical instrument that offered a wide range of performance styles.
With its combination of a two-tiered pair of keyboards, a pedal keyboard, an accompaniment feature, memory, and large speakers, this electronic keyboard system could handle a diverse range of musical styles and broadened the range of expression possible in musical performance. It could be called the culmination of Casio's work crafting musical instruments at the time.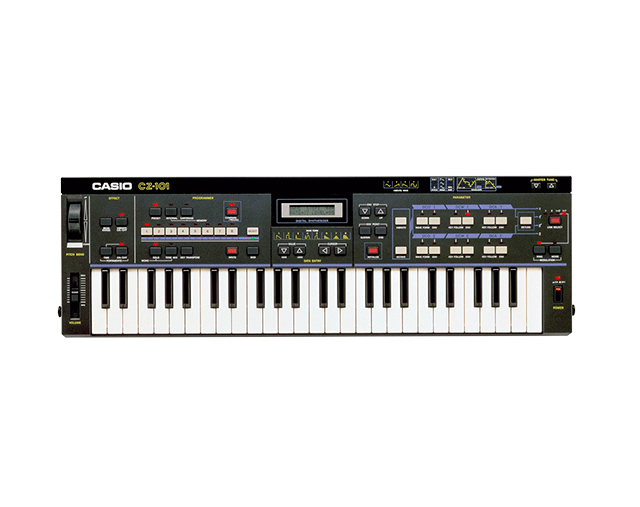 CZ-101
1984
The first Casio synthesizer popularised the creation of original sounds.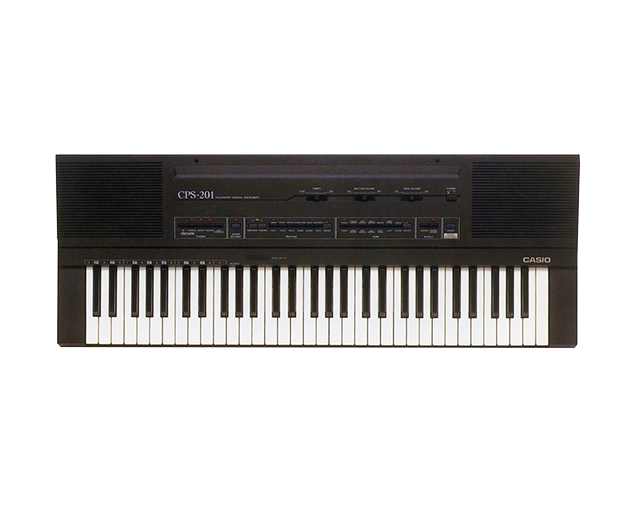 CPS-201
1986
Delivering a natural sound like that of an acoustic piano.
SAMPLING KEYBOARD SK-1

1986
Sampling keyboard loved by millions around the world.
DZ-SYSTEM
1986
Digital drums that could use any MIDI instrument as a sound source.
FZ-1
1987
The 16-bit sampler for generating high-quality sound was the delight of professionals at the time.
The first 16-bit sampling synthesizer in Japan. The FZ-1 was the premier Casio synthesizer model at the time, providing 16-bit handling of all sampling—a technique in the spotlight at the time—to enable playback with high sound quality and satisfy the exacting demands of even pro musicians. It also featured a large graphical LCD display, enabling waveform editing and making adjustments possible for superior usability.
DG-10
1987
A digital guitar offering the enjoyment of playing a variety of instruments' sounds.
CP-3000
1988
The first hammer-action digital piano from Casio.
V-Z

1988
Hybrid approach to sound generation used all new Interactive Phase Distortion (iPD) sound source.
PG-380
1988
Professional guitar synthesizer using VZ technology.
CELVIANO AP-7
1991
The first CELVIANO model, delivering more natural piano performance.
Seeking to offer acoustics and key-touch able to satisfy the demands of users very particular about piano performance, the AP-7 featured an Advanced Piano (AP) sound source and the Natural Hammer Action function. This was the first CELVIANO model, incorporating unique digital modes of enjoyment different from the capabilities of conventional pianos, including a built-in CD player allowing users to play with orchestral accompaniment, for example. The name CELVIANO was formed from a combination of Cerveau (French for "brain"), Electronics and Piano to convey the meaning "brain-equipped, new-era digital piano."
GZ-5
1995
A long-selling, ultra-compact MIDI keyboard.
LIGHTING-KEYS CTK-520L

1995
A standard Key Lighting keyboard That navigated users through lessons.
WK-1200

1997
General MIDI compatible 76-key instrument operated via large LCD that indicated chord names, tempo, staff notation and more.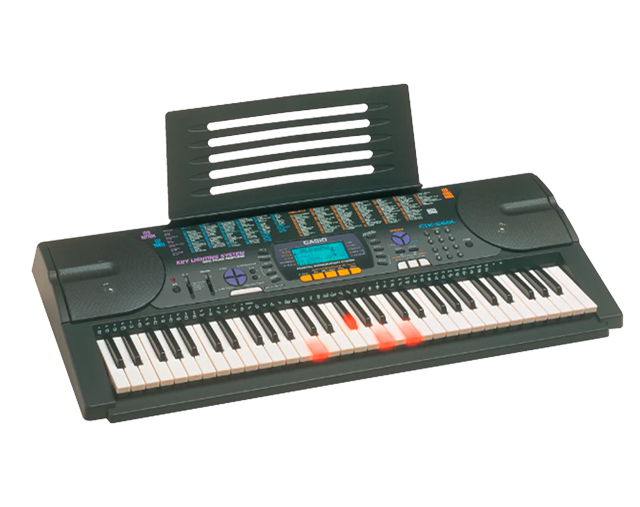 CTK-660L
1998
Optical navigation keyboard with fingering display on LCD screen.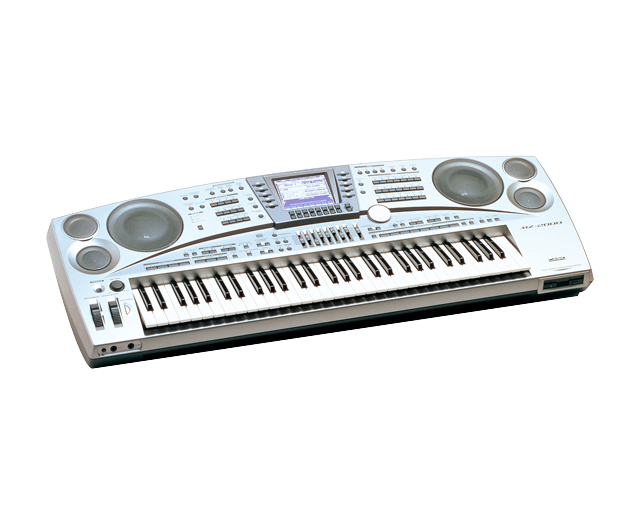 MZ-2000
2000
A powerful arranger keyboard with a large LCD.
This all-in-one keyboard came loaded with a wide range of features such as an offering of 522 high-quality tones powered by the Zygotech Polynomial Interpolation (ZPI) sound source, which was newly developed at the time, the Song Studio function, which enabled chord progression extraction from MIDI data, and the Drawbar function enabling organ sounds to be played with nine sliders. With such a high degree of perfection as an electronic keyboard, this model won many avid fans around the world.
AL-100R
2001
Powerful lesson functions plus all-around rich sound in a dual color Key Lighting digital piano.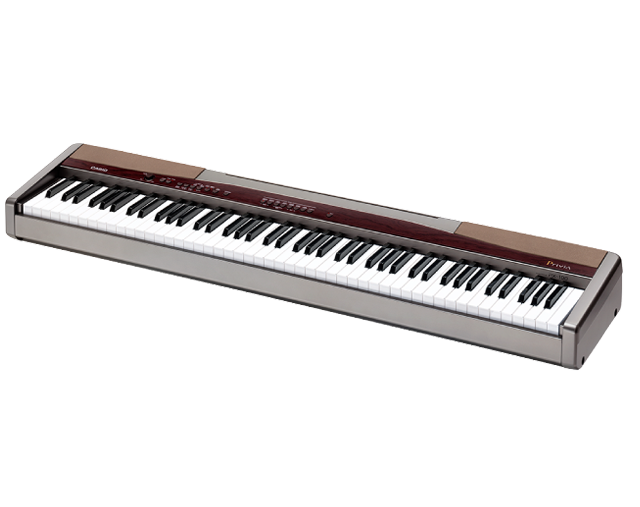 PRIVIA PX-100

2003
The first Privia, which revolutionised the digital piano.
CELVIANO AP-400

2008
128-note polyphony powerful sound piano.
PRIVIA PX-730
2009
Digital piano with "linear morphing AIF sound source".
XW-P1
2012
The Digital Synthesiser for live performance could produce various unique sounds.
The XW-P1 offered 620 types of preset tones across sound functions such as Hex Layer for creating sounds with layering and depth, Solo Synth for reproducing the sounds of traditional analog synthesizers, and Drawbar Organ, not to mention 2,158 built-in waveforms. Providing an intuitive approach to sound creation by enabling control of these sounds with knobs and sliders, the model provided a jam-packed smorgasbord of the features synth players want.
XW-G1
2012
The Groove Synthesizer with 16-step sequencer enabled distinctive performances.
Privia PX-5S

2013
An amazingly lightweight, professionally connected, and battery-powered stage piano.
CELVIANO Grand Hybrid GP-500BP
2015
An ideal blend of innovation and tradition: A revolutionary new natural grand hammer action keyboard made with wooden keys material as used in C. Bechstein grand pianos.
XW-DJ1
2015
New-style DJ controller, equipped with 7-inch disc to make professional scratch play possible.
CTK-3500
2017
61-key model with pitch bender, suitable for a wide range of performances, from simple to complex.
CELVIANO AP-470

2018
AiR sound source for incredible piano realism with advanced resonances, for greater detail like that of an acoustic piano.
CT-X5000
2018
Featuring the AiX Sound Source, groundbreaking for a portable keyboard.
Casiotone CT-S200
2019
A reborn Casiotone with the DNA of the first Casio electronic musical instrument.
Born of a shared DNA
The new generation Casiotone