The Joy Of Playing A Musical Instrument, For Everyone.
CASIO Music Space
An app exclusively for Casio digital piano and keyboard users.
When connected to your Casio piano or keyboard, the Casio Music Space app acts as digital musical score, a music teacher, a live performance simulator, and as an all-round app to enjoy learning and playing music.
It's for complete beginners, people taking up an instrument again, and anyone who wants to experience a new way of playing. Expand your enjoyment of music by watching, listening, and playing through the app.
Piano Roll
The piano roll makes it easy to see which notes to play even if you don't read music. It's a great way to have fun learning while playing.
The pitch and duration of each note is visualized in real time as the song plays, making it easy to find the correct notes of the chords or melody.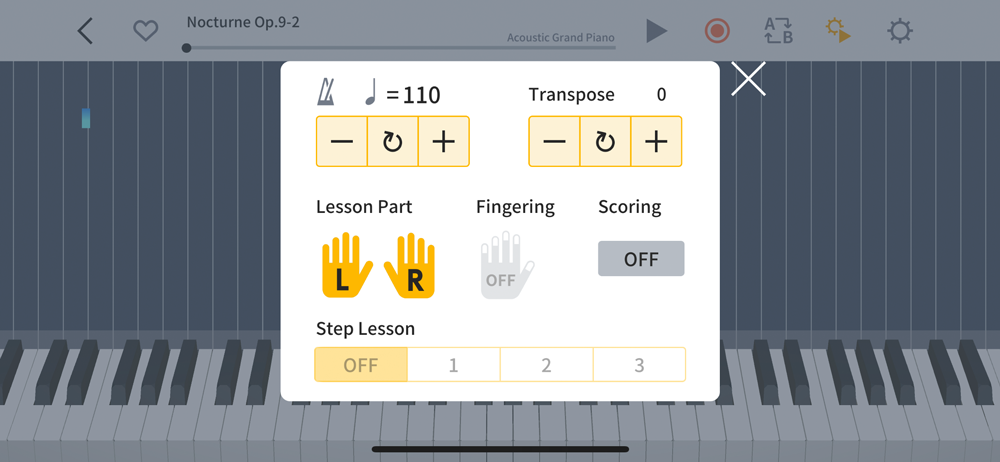 Practice at Your Own Pace
If the tempo is too fast, slow it down and practice the difficult parts as many times as you need to until you've mastered them.
See Your Progress with Scores and Recording
See how well you played with a score calculated by the app, and listen to your performance with the recording feature.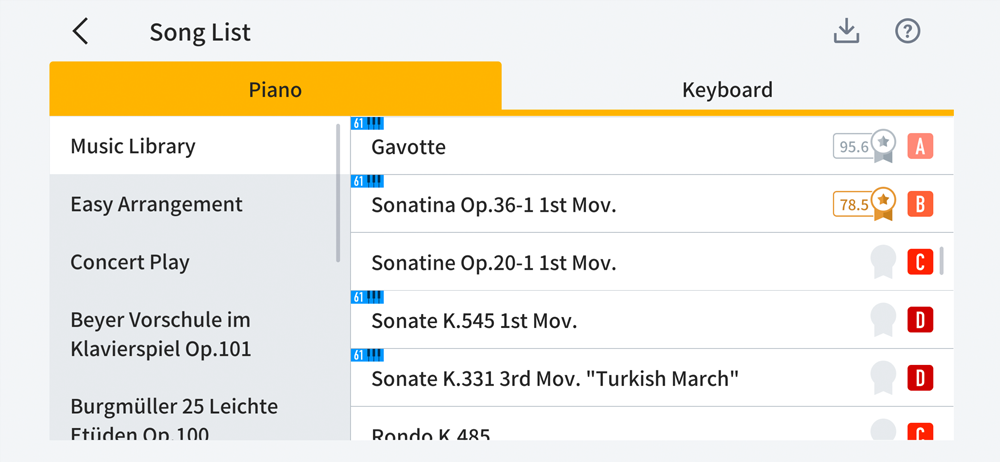 A Library of Songs to Choose from
Built in songs for you to practice and play –r use your own MIDI files! A difficulty level and your score for each song is displayed in the app's song list.
Score Viewer
Musical Score + Sound lets you see and listen to a wide range of music on your smart device.
Zoom in and out and flip through pages of sheet music in the app. View a score while listening to the music—great for use on the go.
A Wide Variety of Built in Recorded Songs
Displays PDF scores of the songs included in the app, many of which can be played on a 61-key keyboard.
Supports Pedal Operation to Flip through Music
Use the damper pedal or three pedal unit to flip through the score via USB cable or wireless connection.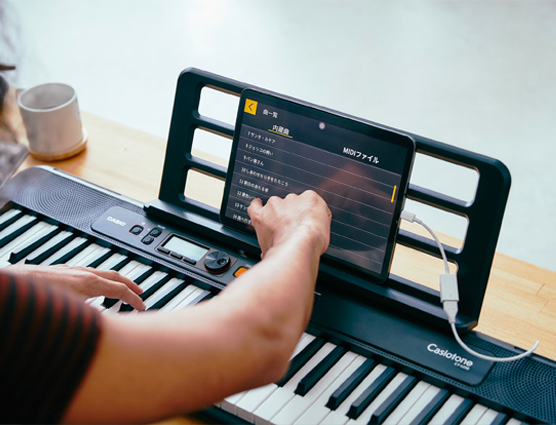 Music Player
Play along with your favourite songs.
Connect your smart device and playback songs through the instrument's speakers. Perfect for creating a session-like atmosphere, accompanying songs, or practicing parts of songs for a band.
Display Your Own Songs in the App
Display a complete list of songs stored on your smart device. Search by song title, artist name, and more.
Play Songs Your Way
Adjust the tempo, change key, repeat play, and cancel melody/accompaniment to suit your playing style.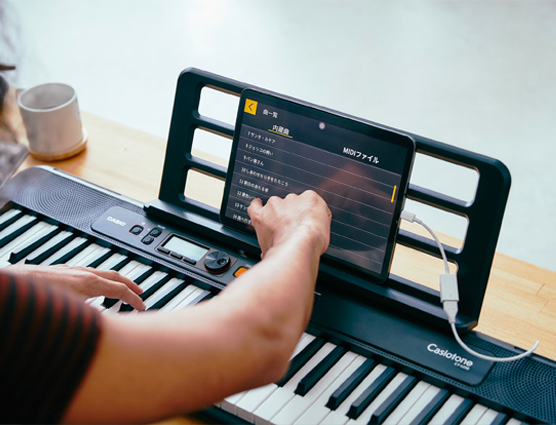 Live Concert Simulator
Turn everyday playing into an extraordinary experience. Feel the excitement of live performance at home.
The app analyzes any performance on a connected instrument or song on a smart device and automatically adds audience sounds according to the excitement of the music. Add a new dimension to your playing with this unique performance experience.
Eight live performance spaces to choose from.
Performance Venues
Recreate the atmosphere of various music venues, including the sound of the audience and environmental sounds.
Nature
A variety of environmental sounds and effects are used to create the sound of rich natural environments when playing.
Beach
The sound of waves and the occasional seagull
Classical Hall
Simulation of a large hall with long reverberation
Auditorium
The unique sound of a medium-sized, roofed hall
Jazz Club
A small venue with an intimate audience
Piano Lounge
A casual space to listen to music and enjoy conversation
Rain
Thunder dramatises the performance based on the intensity of rain
River
The gentle murmur of a flowing river with birds singing in a forest
Stadium
An expanse of sound in a large-scale outdoor concert with tens of thousands of people
Piano Remote Controller
Change your digital piano's settings quickly and easily.
Connect your smart device to your digital piano and control various settings remotely without the need to operate the piano itself.
Easy-to-understand menu
The icon-based menu makes it easy to identify settings at a glance. Tap the icon to change the corresponding setting.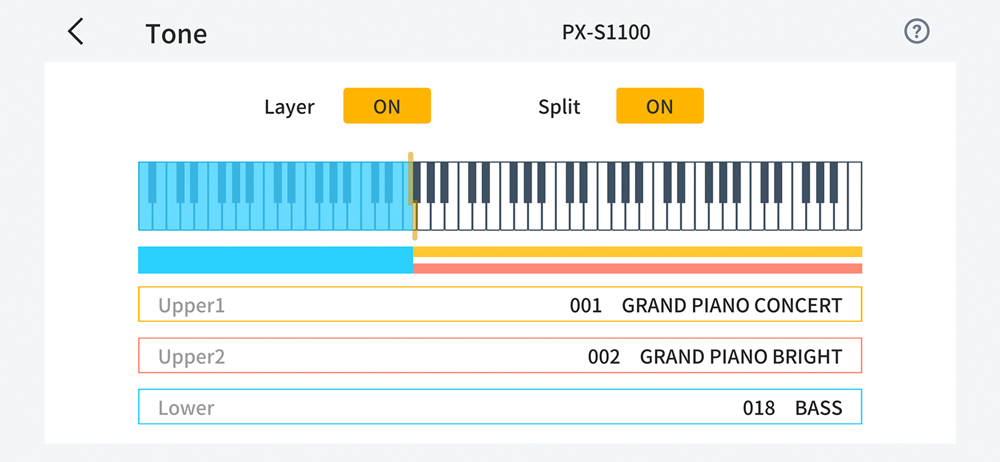 Set directly from the screen
Change the tone to match the mood of a particular song or select one of the built-in songs and adjust to your preference.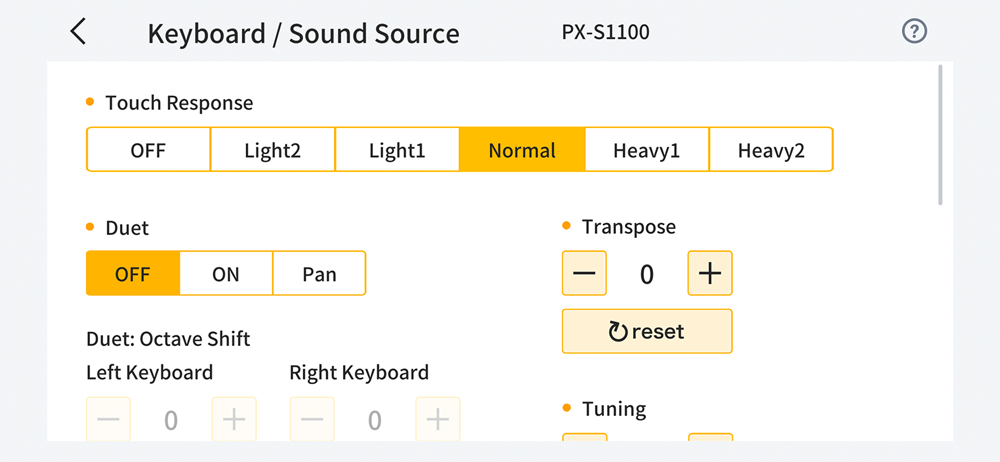 Check settings and details
Change your digital piano's settings quickly and easily. Connect your smart device to control settings remotely.