Vocal Synthesis
Technology That Redefines Playing an Instrument.
Imagine a keyboard like no other that has come before—one that can "sing" pre-programmed lyrics according to the musical phrases you play.

Unlike conventional keyboards and synthesizers, and in contrast to specialized studio production equipment, the Casiotone CT-S1000V represents an all-new performance instrument concept built around a groundbreaking new technology: Vocal Synthesis.
A groundbreaking new technology
An Instrument That "Sings" in Real Time
Developed by Casio in conjunction with researchers at the Nagoya Institute of Technology. Articulation models based on earlier machine learning research are used to modulate vocal tones from a range of virtual vocal patches known as Vocalists, combined with built-in preset lyrics and user-programmed lyrics entered into the Lyric Creator app to produce fluently sung lines via the keyboard. The vocals, which are created by combining vocal tones produced by a PCM sound source designed to mimic human vocal cords, together with filters that generate phrasing in accordance with the lyrics input, can also be tweaked in real time via physical knobs to further adjust characteristics such as age and gender.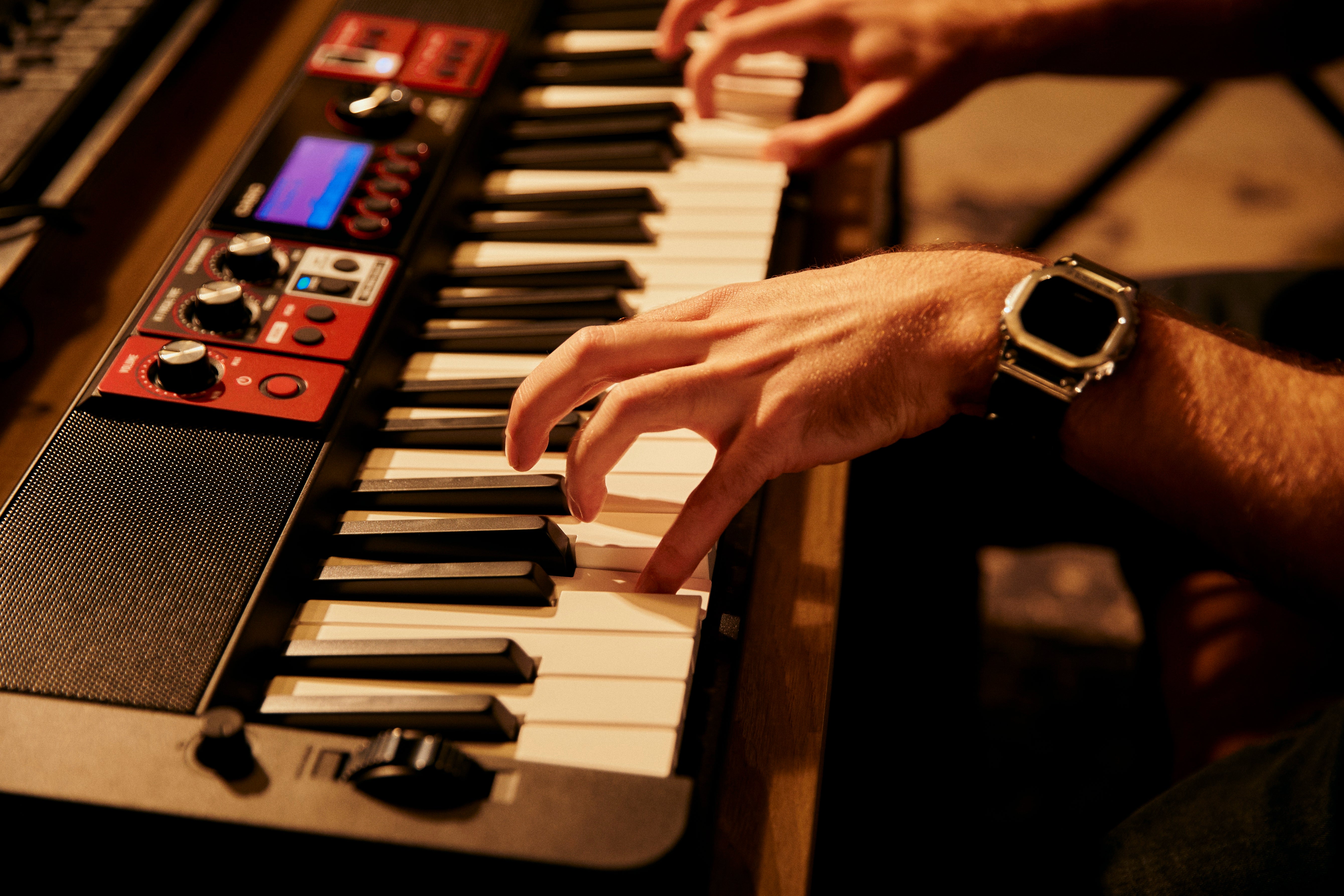 Create complex vocal lines
Note Mode and Phrase Mode Give Control Over Lyrical Progressions
Note Mode produces fluent, natural-sounding vocal lines by triggering each syllable of your lyrics according to the notes you play and applying the terminal consonants as you release the keys. There are also several features to guard against the risk of losing your place having played a wrong note. Casio's SP-3 and SP-20 pedals (sold separately) or other commercially available footswitch can be used to step forward and backward through the lyrics , or reset the lyric position. You can also select which syllable to pronounce next using the bass register keys, and control how syllables should advance when chords are played.
Scope for experimentation 
Real-Time Control Over Vocal Timbre
The CT-S1000V has 22 vocal presets, or "Vocalists," each with their own character, from "Choir Group" and "Bossa Nova" to "Child" and even "Vocoder." Each comprising multiple wave forms and elements such as white noise, these Vocalists are precisely tuned to produce clarity on both vowels and consonants, whether performing monophonic melody lines or more complex harmonies. Meanwhile, the physical control knobs on the CT-S1000V's console panel offer real-time control over parameters such as vibrato and portamento, as well as tonal characteristics that determine your chosen Vocalist's age and gender profile. And by adjusting attack and release, and the speed of enunciation, you can sculpt even more natural transitions between words and syllables, and subtly control the timing with which the resulting vocals hit the ear. What's more, you can upload a 16 bit/44.1 kHz WAV file and create your own User Vocalist, while combining different parameters can help to unearth completely original sounds.
dynamic combinations
Combine Functions to Create Complex Vocal Textures
The creative possibilities of Vocal Synthesis and the CT-S1000V are expanded still further by combining its many built-in features. For example, the arpeggiator generates arpeggiated chords and other phrases from held-down keys, but can also be used in conjunction with the Syllable Randomizer to vocalize syllables from lyrics in random order to create otherworldly phonetic clusters. Built-in DSP effects combined the instrumental tones unlock even more dynamic combinations. Holding down a key with the Retrigger function active recreates the effect of striking the key in rapid, perfectly timed succession . You can use Retrigger in combination with the Hold function to have keys retriggering even after they have been released, facilitating textures and arrangements that would be impossible to physically play.
Enter Your Lyrics
Favourite song lyrics and original creations alike can be entered in English and Japanese using your iOS or Android device via Casio's own Lyric Creator app. This text is automatically divided into syllable units (though you can also assign divisions manually and group multiple syllables together), and after exporting the resulting data to your CT-S1000V, you're ready to play.
Set the Meter
In Phrase Mode, the playback meter of the lyrics is determined by assigning note values (8th notes, quarter notes, etc.) to the individual syllable units and inserting rests. Individual lyric tones include tempo data that can be adjusted via the CT-S1000V itself. Tempo can also be synced to the MIDI clock from your DAW or other external MIDI device to ensure that your vocal phrasing always remains in time regardless of how adventurous you get.
Get Granular with Phrasing & Diction
Users with the appetite for a truly granular approach can go even deeper and edit the phonemes that comprise individual syllables. And besides crafting clearer vocal diction, this process can be used to approximate regional accents or mimic the pronunciation of words in languages other than English and Japanese. (Note that the available phoneme library consists only of sounds that occur in standard English and Japanese.)
Chain Lyrics Together
While Lyric Creator places a limit on the length of lyric that can be entered (up to 100 eighth-note syllables), once uploaded to your CT-S1000V, individual lyrics can be chained together into much longer sequences. This function allows you to fine tune individual sections at the input stage before combining them within your CT-S1000V to create a complete song.
Create Your Own Vocalists
The Lyric Creator app can also be used to transform a WAV audio sample (16bit/44.1kHz, mono/stereo, max. 10 seconds in length) stored within your smart device into an original Vocalist patch that can then be loaded into the CT-S1000V. The editing interface allows you to set characteristics such as age, gender, vocal range, and vibrato.
Connecting to Your Smart Device
Once the Lyric Creator app is installed on your smart device, you can start transferring lyrics, sequences, vocal samples, etc., by connecting your device to your CT-S1000V via a USB cable. While connected, you can also use the app to view how much space is available on the CT-S1000V's internal drive, delete files, and edit file names. Program files are exported using a proprietary format that enables sharing between CT-S1000V users. You can also import Music XML lyric data and note values from your DAW.